Join us August 29-30, 2020 for a VIRTUAL Taste of Ashland!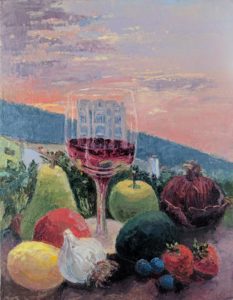 ---
A Taste of Ashland is the premier event for support of the Ashland Gallery Association.
Typically, foodies, wine connoisseurs and art lovers from all over flock to picturesque Ashland, Oregon and partake in a remarkable weekend of art, food and fun. With the health and safety of our community as well as COVID19 guidelines set forth by our state government the 2020 Taste of Ashland will be both an at home art collaboration with a limited-edition coloring book as well as a virtual event featuring gallery tours, interviews, chef demonstrations and amazing gifts that you can win.
The Limited-Edition Coloring Book is a great way to escape, decompress and create a collaboration between you and all of the local artists who have created pages for this project. Purchase yours today! Each page is inspired by our local bounty and community.
For more information about A Taste of Ashland, please email tasteofashland@gmail.com.
---
A Taste of Ashland is a fundraising event in support of the Ashland Gallery Association.
---
2020 Featured Artist
Jeanne LaRae – Artist, Fine Art Painter, Illustrator, Teacher, and Photographer
Jeanne LaRae explores and discovers from her home town, the U.S. and  worldwide "in search of light and shadow and its magical effects."  She "loves the light as it dances across a dogs nose, causes the shimmer on Aspen trees, the sparkle in water, the drama of shadows and the bouncing light with color creating paths throughout a landscape, and the role it plays in telling the story as it allows Jeanne to relate and deliver it throughout her paintings of nature, landscapes, architecture, people, and animals".
Jeanne LaRae captures visions and reflects them in all forms and techniques of art.  Her commissions range from detailed realism, impressionistic, to abstract.
 Jeanne encourages and inspires people to look further and deeper into our surroundings, finding the beauty and the story, to listen to the whispers of the world around them as more of a symphony of color and light, and to appreciate the gift and experience of the path.  Her students are incited, nurtured and cheered to venture down this journey.
Thank You To Our Event Sponsors: